Thinking of trying yoga at Namaste but unsure where to begin?


←

Best deal for new students!
← As many classes as you want
← Get to know our teachers & their styles
← Experience the transformation yoga can bring!
← 3 weeks for the price of 2 classes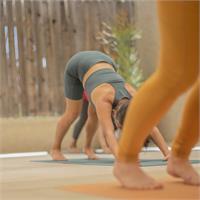 This intimate 2.5-hour workshop is for beginners and anyone who wishes to review the very basics.
In a relaxed setting, we'll introduce you to the practice of yoga and help build a foundation which will help you feel more confident in a group class or in your own practice.
We will go over the following:
• brief background on what yoga is; its origin, philosophy, benefits
• simple breathing exercises, focusing mind and body, linking breath with movement
• basic postures, step-by-step, focusing on proper alignment and foundations
• modification of postures so that they work for your own unique body. There will be an opportunity to ask questions and receive one-on-one assistance with the poses.
* In keeping with studio policy, children are welcome, but please use your judgment regarding your child's ability to pay attention and participate for three hours. It's a long class and requires focus!

* While appropriate for those who have never done yoga before, this is not a therapeutic class and participants should be in good general health. Please contact the studio if you are unsure as to whether this class is appropriate for you.

* Please do not eat 2-3 hours before the workshop and wear loose comfortable clothes to class!
Pre-register: $35
Drop-in: $45
FIRST TIME VISITORS GUIDE
BEFORE YOU ARRIVE
HYDRATE Please remember to drink lots of water before and after yoga. It is very important to stay hydrated. You can bring your own bottle and fill it at our filtered water station or purchase cold bottled water from the front desk.
EAT Please don't attempt to practice on an empty stomach. Have a full meal a few hours before class or a light snack up to ann hour before.
WHAT TO WEAR We suggest wearing pants or shorts and a light and breathable top. Stay away from anything too baggy, as you will probably find yourself upside down at some point. Shoes and socks are not worn in class. Although there is no standard yoga attire, we do offer a wide selection of yoga-appropriate workout clothes in our boutique.
WHAT TO BRING Mats, towels, and water bottles can be purchased at the studio or brought from your own home. We have mats that you can borrow.
WHAT TO EXPECT
ARRIVE EARLY Please make sure you arrive at 10-15 minutes before class to sign in, change, and get settled. The worst is feeling rushed before class. On your first visit, plan to come a few minutes earlier to fill out a waiver and release, sign in, and pay for class. Web registrations, while not required, help to speed up the check-in process.
CHECK IN If you have booked online (recommended) look for the sign-in sheet at the front desk. In the event that a class fills to capacity, web registrations will be held until five minutes after class begins.
WAIVER All first-time riders are required to fill out a waiver. The front desk will get you set up with a form when you first check-in at the studio.
LATE POLICY Classes begin promptly, please arrive 10-15 minutes early. If the studio is full, the door will be locked when class begins. If there is still space available, the door will be open for up to 10 minutes after class begins and you may quietly join the class.
Please understand that space in our studio is limited and that it may be difficult for us to accommodate late arrivals.
---
HOW TO BOOK
REGISTER Create an account for easy access to your visit history.
BUY MEMBERSHIP OR CLASSES For your first 3 weeks go with the $30 new student special, it is BEST DEAL FOR NEW STUDENTS - 3 weeks for the price of 2 classes! Take as many classes as you can to get to know our teachers and to see if our schedule fits with yours. SIGN UP FOR A CLASS!
Not sure what class to take? Email or call Emily! She'll be happy to answer any question you have!


Frequently Asked Questions
Do I need to sign in online?
Signing in online guarantees your spot in class and lets us know you are coming. If you are planning to arrive 10min or more before class, singing up is not necessary but if you plan to be right on time, get your spot before showing up! Keep in mind that certain classes are more crowded than others (especially Sunday mornings and evenings on the weekdays), so it's wise to reserve your spot early!
Where do I park?
HLP - There is free parking in the residential areas one block down in either direction from York Blvd. Paid 2 hour parking ($1 for 2hrs) behind behind Citi Bank, just off Avenue 51. Please note that the parking meters right outside the studio have 1hr limit which is not enough to get in and out of class (the metermaid are fierce and fast). The Post Office Parking lot is used as a valet ($5) service during the evenings and weekends.
---
DTLA - there is valet parking in the building $10, available Monday-Friday 7am-5pm, free after. 4hr metered street parking: 24/7 on Flower, 6am-3pm & 7pm-10pm on Olympic. Several parking lots within a block ($5-$15).
Do you do hot yoga?
No, we are an unheated yoga studio. Our space is equipped with a heating system for the winter months, and an AC system for hot summer days to keep the space at comfortable room temperature.
Though we do not add heat, some classes do get hot and sweaty, so drink plenty of water before and after class!