Beatrice Buenaventura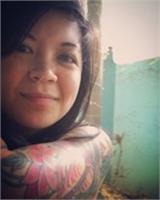 Beatrice believes that a consistent yoga practice allow us to create and nurture a connection within others and ourselves. She also believes that yoga can help build strong bodies, gain flexibility of the mind and body, may help conquer fears, and avoid injury, among many other benefits. Yoga brings people back to their natural state, one of true happiness and joy, and contributes to making our world a better place.
She humbly bows in gratitude to her teachers: Rich Logan, Kino Macgregor, Tias and Surya Little, Mollie Galbraith, Hillary Wright, Sri K. Pattabhi Jois, Richard Miller, Sharon Gannon, David Life, and David Swenson.
Beatrice Buenaventura instructs the following:
Linking breath to movement, this class offers a faster pace practice, explores more complex movements and sequences including twists, backbends; options for inversions and arm balances layered over solid foundations. The teacher will encourage rest periods and offer modifications as needed.




A steady practice with focus on proper alignment and holding of poses to engage, building strength, stamina, flexibility and balance as well as improving concentration and breath control.
**Introducing twists, some backbends, approachable inversions and the usage props (blocks, straps), this class is suitable for, and potentially challenging for ALL LEVELS as it can be taken as easily or deeply as one's body demands on a given day.




Wind down your day by the candlelight. This well-rounded evening class infuses a vinyasa flow with quiet, cooling, relaxing restorative poses at the end and an extended savasana. Perfect to ease away the day and prepare you for a restful night's sleep.