Eduardo Duran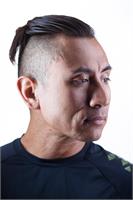 Eduardo Duran was born and raised in the central valley. He discovered Hatha yoga in 1997 and quickly fell in love. After moving to LA in 1999, he began experimenting with Power and Ashtanga Yoga. He moved to NYC in 2004 to pursue his yoga certifications. He completed his 200 hour certification in may of 2010. That same year Eduardo lost a younger cousin to an obesity related death. His cousins death inspired him to get certified as a fitness instructor. Eduardo began training clients at The ART Method Studio in Soho in 2011. It was during this time that he began combining his love of yoga and his love of fitness and thus, yoga sculpt was born. Come to his class and be transformed into the fearless person you were meant to be!
Training Certifications:
200 hour vinyasa yoga, certified personal trainer, exercise therapy, fitness nutrition, weight loss specialist, spinning certified, & CPR and AED certified.
Eduardo Duran instructs the following:
Integrating movement and breath, this class is aimed at the seasoned beginners and regular practitioners.
- Introducing twists, some backbends, approachable inversions, be prepared to explore both beginning and intermediate poses. Modifications are given allowing the students to choose a more beginning or more advanced practice according to their needs.




Strength emanates from the core outwards. Build heat, stamina and strengthen your core muscles so you can flow with grace and ease in your yoga practice. Be prepared to generate heat with longer holds, to work and sweat in this power session.
EXPECT a great cardiovascular and strength building workout combined with breath work.