Meg Shoemaker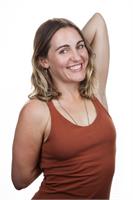 Initially, I came to my mat in art school as a simple way to calm my mind from anxiety and uncertainty. What I was surprised to find was an entire universe of awakening, from an unthawing of movement and breath, strengthening and aligning my physical body, and ultimately a continued fine-tuning of the subtle body and energetics of my mind.
The working through Samskaras, the Sanskrit word and idea of "mental impressions and psychological imprints" is what I'm interested in offering to my students. What you've come into the world with and onto your mat with has a chance of transformation everyday just by incremental shifts in continued showing up.
After intense study for about ten years in various methods, I felt called to become certified to teach. I completed my 200-hour training at Kula Yoga Projects in New York City, led by my incredible teachers Nikki Viella, Schuyler Grant, Nikki Costello and Erin Dudley. As well as study in various methods of meditation, from workshops in meta-meditation at Om Yoga in New York, to training in transcendental mediation through the David Lynch Foundation.
My intention with every class is to wake up dual-action in the body with clear and intelligent alignment, to keep the practitioner safe in the uncovering of fresh territory within the mind, body and the changing relationship of the two through the elixir of deepened breath and above all, to leave my class shining!
Meg Shoemaker instructs the following:
This vigorously paced class offers dynamic transitions through poses and the opportunity to explore inversions, arm balances and backbends while building strength, balance, and flexibility.

Since this class involves a strength work and a faster pace, its best if you are already comfortable practicing sun salutations and have an intermediate level of fitness.




Wind down your day by the candlelight. This well-rounded evening class infuses a vinyasa flow with quiet, cooling, relaxing restorative poses at the end and an extended savasana. Perfect to ease away the day and prepare you for a restful night's sleep.




Work the connective tissues of our ligaments, joints and deep fascial networks in this meditative practice focused on deep stretching, breath and relaxation. Props are used to support the body as postures are held for an extended time allowing for deep stretches that are soft, rather than muscle driven.
Yin Yoga is the perfect complement to a regular practice of active asana.