Chris Reed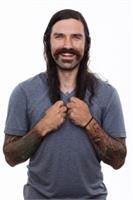 Chris Reed took the first steps towards a more peaceful life with choosing to embrace a vegetarian lifestyle at the age of 11. It wasn't until spring 2012, that he found the benefits of a yoga practice. Following years of looking for happiness from outside sources, yoga taught Chris to look within to find the answers he is seeking. Since his first yoga class Chris continues to learn and grow, trying to live a more spiritual life and be a more peaceful, present-minded individual. Stepping into the unknown, Chris recently relocated to Southern California to see what the universe might have in store. When off the mat, you can find Chris riding his beloved bicycle, sipping coffee, and DJ-ing around town.
Chris Reed instructs the following:
This vigorously paced class offers dynamic transitions through poses and the opportunity to explore inversions, arm balances and backbends while building strength, balance, and flexibility.

Since this class involves a strength work and a faster pace, its best if you are already comfortable practicing sun salutations and have an intermediate level of fitness.