Steven Arcos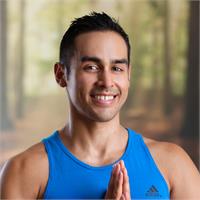 Steven is an Echo Park native. Born and raised here, his teaching style reflects the LA lifestyle: equal parts relaxing and adventurous. As someone who practices many different styles of yoga, he loves to keep classes fun and challenging by incorporating those styles into his teachings. His motto is Sapere Aude or Dare to Know. He believes that by keeping an open heart and mind you will never stop growing. Always looking for new ways to push himself, Steven found yoga. After it changed his life by connecting him to his more spiritual self, he became eager to share his passion with the rest of the world. He teaches that yoga, although an amazingly effective physical activity, is in reality so much more. When he is not teaching he remains very active. Steve is an avid runner, cyclist, as well as personal trainer and believes in healthy living through physical fitness.
Steven Arcos instructs the following:
Linking breath to movement, this class offers a faster pace practice, explores more complex movements and sequences including twists, backbends; options for inversions and arm balances layered over solid foundations. The teacher will encourage rest periods and offer modifications as needed.




Integrating movement and breath, this class is aimed at the seasoned beginners and regular practitioners.
- Introducing twists, some backbends, approachable inversions, be prepared to explore both beginning and intermediate poses. Modifications are given allowing the students to choose a more beginning or more advanced practice according to their needs.