Chona Bernardo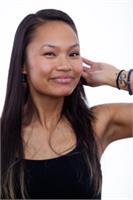 Chona has been a Reiki practitioner since 2009. After her first attunement she began her self healing process, enabling her to heal physically and emotionally, and has profoundly impacted her spiritual growth. She received her second Reiki attunement, which strengthened her intuitive abilities. After six years of practicing, she is now empowered to offer this service to others. She hopes to spread the awareness of Reiki to the community as an alternative holistic approach to healing.
Chona Bernardo instructs the following:
Integrating movement and breath, this class is aimed at the seasoned beginners and regular practitioners.
- Introducing twists, some backbends, approachable inversions, be prepared to explore both beginning and intermediate poses. Modifications are given allowing the students to choose a more beginning or more advanced practice according to their needs.




Strength emanates from the core outwards. Build heat, stamina and strengthen your core muscles so you can flow with grace and ease in your yoga practice. Be prepared to generate heat with longer holds, to work and sweat in this power session.
EXPECT a great cardiovascular and strength building workout combined with breath work.




This class focuses on core asanas/postures and the foundations of breath to movement flow.
Learn proper alignment and the fundamentals of transitions.
**Good choice for beginners, great for all levels. A strong yoga practice begins with a sturdy foundation, this class can fine tune even an advanced practice.




In this steady-paced yoga class traditional asanas are held in accurate alignment with emphasis on building core strength, stamina, flexibility and balance as well as improving concentration and breath control.
**Focused on refinement of the basics, the practice of Sun Salutations and introduction to revolved standing poses, hand balances, inversions and backbends. Using props when necessary, we move at a faster pace than in an All Levels class.




This vigorously paced class offers dynamic transitions through poses and the opportunity to explore inversions, arm balances and backbends while building strength, balance, and flexibility.

Since this class involves a strength work and a faster pace, its best if you are already comfortable practicing sun salutations and have an intermediate level of fitness.




This workshop style class is dedicated to deepening body awareness, functional strength for an all around stronger yoga practice.
Limited to 12 people, students get one-on-one direction, personalized modifications, and lots of prop work. Whether you're new to yoga and looking to prevent injury, or you're a veteran seeking more detailed instruction, this is the class for you.
EXPECT a challenging, non-judgmental, and playful environment - all in the service of growing a practice that works best for you and your own body.