Odeya Nini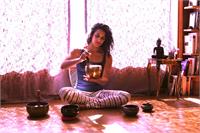 Odeya Nini is a Los Angeles based yoga instructor, experimental vocalist, composer and mover. With 8 years of yoga teaching experience, she has finally united her two worlds of music and yoga in this unique experience of a Voice Bath. Her music spans orchestral pieces to compositions for solo voice and sound installations. As a soloist her voice has been heard from Los Angeles to Odessa, Vietnam and Mongolia.
Odeya Nini instructs the following:
A total sound immersion in the healing power of the human voice. Open your body, heart and mind to journey in meditation to the healing sound waves of changing vibration, dynamic tone, melody, emotion and the powerful resonance of the voice.

The voice will be accompanied by the celestial drones of Tibetan singing bowls.

$20 pre-registered
$25 for drop in

Monthly members enjoy 10% off.