Hannah Skye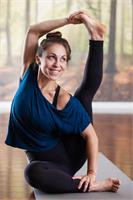 Hannah was born in Colorado, so a love of the mountains and of nature circulates in her soul. With her background in acting and dance, she will gracefully guide you through a seamless vinyasa flow that incorporates both strength and ease.
Hannah believes that yoga is for every body. Poses are just shapes, so they will look and feel a little different for each individual, and there can be great joy in the exploration of those internal and external nuances. Every class Hannah teaches is layered with different options so that students can customize their flow, either to be more energetic and challenging, or more grounded and relaxing. Everyone is inspired to practice for different reasons, usually when they are seeking something more in their lives. Whether that's physical health, emotional peace, or a meditative journey, Hannah encourages students to bring themselves to the mat. Spend some time in your own body; move, sweat, breath deeply, and play in your practice. Yoga can be an outlet to detoxify and destress, or a medium of play and expression -- and often times both. You can expect to sweat in Hannah's class, so bring your water and come ready to flow!
Certifications:
RYT 200, CorePower Yoga
Corepower Extensions Program & mentorship
Corepower Yoga Level 2 Training
Kids Yoga training, Yoga Works
Advanced Sequencing Immersion, Mukti Yoga School
Safe Teaching Immersion, Mukti Yoga School
Hannah Skye instructs the following:
Integrating movement and breath, this class is aimed at the seasoned beginners and regular practitioners.
- Introducing twists, some backbends, approachable inversions, be prepared to explore both beginning and intermediate poses. Modifications are given allowing the students to choose a more beginning or more advanced practice according to their needs.




Strength emanates from the core outwards. Build heat, stamina and strengthen your core muscles so you can flow with grace and ease in your yoga practice. Be prepared to generate heat with longer holds, to work and sweat in this power session.
EXPECT a great cardiovascular and strength building workout combined with breath work.




Wind down your day by the candlelight. This well-rounded evening class infuses a vinyasa flow with quiet, cooling, relaxing restorative poses at the end and an extended savasana. Perfect to ease away the day and prepare you for a restful night's sleep.




This vigorously paced class offers dynamic transitions through poses and the opportunity to explore inversions, arm balances and backbends while building strength, balance, and flexibility.

Since this class involves a strength work and a faster pace, its best if you are already comfortable practicing sun salutations and have an intermediate level of fitness.