HATHA :: All Levels (c)
This class is taught by: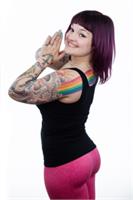 Jamie thinks that the key to happiness is contentment, compassion, and laughter. And sushi. And dogs. Lots of dogs.
Jamie believes that yoga is a constant practice, appropriate for every body, that should be approached with compassion for the self. Her classes focus on breath, alignment and body appreciation, and you will leave her class feeling calm, supported and empowered.
A steady practice with focus on proper alignment and holding of poses to engage, building strength, stamina, flexibility and balance as well as improving concentration and breath control.
**Introducing twists, some backbends, approachable inversions and the usage props (blocks, straps), this class is suitable for, and potentially challenging for ALL LEVELS as it can be taken as easily or deeply as one's body demands on a given day.
Upcoming classes: