HATHA :: Basics
This class is taught by:
Shira recently graduated from Occidental College with a focus in Buddhist Philosophy and Critical Theory. A Buddhist herself, she loves taking different Buddhist theories and incorporating them into her yoga practice. She has traveled around Asia living in monasteries in India, Nepal, and China, where she studied under meditation masters and explored a monastic life style.
As a yoga teacher Shira helps to cultivate a diverse environment, moving beyond static and confining notions of what it means to be a yogi. She shines a light on the multiplicity and dynamism of the practice of yoga by cultivating an inclusive and accepting class environment, and always hopes to challenge her students to face their fears and find their powers.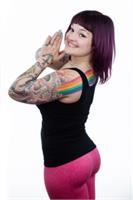 Jamie thinks that the key to happiness is contentment, compassion, and laughter. And sushi. And dogs. Lots of dogs.
Jamie believes that yoga is a constant practice, appropriate for every body, that should be approached with compassion for the self. Her classes focus on breath, alignment and body appreciation, and you will leave her class feeling calm, supported and empowered.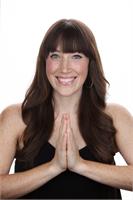 With a life-long passion for music and years of a dedicated yoga practice, Jasmine discovered the power of combining yoga and music during her first Kirtan chant – where she reached her deepest meditation. As a certified Mukti Yoga teacher, and music business professional, sound and movement constantly inspire Jasmine. Yogis believe that something sacred vibrates within us, and that vibrations are the source of life and the Universe. She feels the most powerful way to quiet the mind and experience this vibration is through the combination of asana and sound. Jasmine intuitively challenges and guides her students with a practice focused on alignment, flow, and breath – mixed with elements of sound through live music, meditations, mantras, crystal bowls, and unique playlists. Her classes provide a balanced, spiritual, and strength building experience that will resonate both on and off the mat. Jasmine also loves to promote 'mindful eating' through creating and sharing plant-based recipes, swimming at the local pool, and enjoying life with her fiancé.
This class focuses on core asanas/postures and the foundations of breath-work.
Learn proper alignment, where to focus effort and where to find release.
**Good choice for beginners, great for all levels. A strong yoga practice begins with a sturdy foundation, this class can fine tune even an advanced practice.
Upcoming classes: