VINYASA :: Basics
This class is taught by: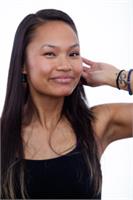 Chona has been a Reiki practitioner since 2009. After her first attunement she began her self healing process, enabling her to heal physically and emotionally, and has profoundly impacted her spiritual growth. She received her second Reiki attunement, which strengthened her intuitive abilities. After six years of practicing, she is now empowered to offer this service to others. She hopes to spread the awareness of Reiki to the community as an alternative holistic approach to healing.
This class focuses on core asanas/postures and the foundations of breath to movement flow.
Learn proper alignment and the fundamentals of transitions.
**Good choice for beginners, great for all levels. A strong yoga practice begins with a sturdy foundation, this class can fine tune even an advanced practice.
Upcoming classes: