HATHA :: Candlelight
This class is taught by: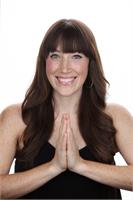 With a life-long passion for music and years of a dedicated yoga practice, Jasmine discovered the power of combining yoga and music during her first Kirtan chant – where she reached her deepest meditation. As a certified Mukti Yoga teacher, and music business professional, sound and movement constantly inspire Jasmine. Yogis believe that something sacred vibrates within us, and that vibrations are the source of life and the Universe. She feels the most powerful way to quiet the mind and experience this vibration is through the combination of asana and sound. Jasmine intuitively challenges and guides her students with a practice focused on alignment, flow, and breath – mixed with elements of sound through live music, meditations, mantras, crystal bowls, and unique playlists. Her classes provide a balanced, spiritual, and strength building experience that will resonate both on and off the mat. Jasmine also loves to promote 'mindful eating' through creating and sharing plant-based recipes, swimming at the local pool, and enjoying life with her fiancé.
Wind down your day by the candlelight. This well-rounded evening class infuses a steady all levels hatha class with quiet, cooling, relaxing restorative poses at the end and an extended savasana. Perfect to ease away the day and prepare you for a restful night's sleep.
Upcoming classes: