WORKSHOP :: Intro to Yoga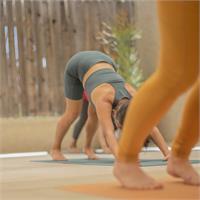 This intimate 2.5-hour workshop is for beginners and anyone who wishes to review the very basics.
In a relaxed setting, we'll introduce you to the practice of yoga and help build a foundation which will help you feel more confident in a group class or in your own practice.
We will go over the following:
• brief background on what yoga is; its origin, philosophy, benefits
• simple breathing exercises, focusing mind and body, linking breath with movement
• basic postures, step-by-step, focusing on proper alignment and foundations
• modification of postures so that they work for your own unique body. There will be an opportunity to ask questions and receive one-on-one assistance with the poses.
* In keeping with studio policy, children are welcome, but please use your judgment regarding your child's ability to pay attention and participate for three hours. It's a long class and requires focus!

* While appropriate for those who have never done yoga before, this is not a therapeutic class and participants should be in good general health. Please contact the studio if you are unsure as to whether this class is appropriate for you.

* Please do not eat 2-3 hours before the workshop and wear loose comfortable clothes to class!
Pre-register: $35
Drop-in: $45
Upcoming classes: