OPEN HOUSE :: 200 Hour Teacher Training Info Session
This class is taught by: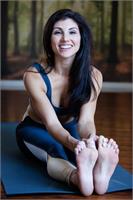 Dana Kraft's yoga experience is about limitless possibilities on and off the mat. She fills the room with her sense of fun and radiance and empowers her students through her philosophy- the challenges we face in our yoga practice parallel the obstacles we face in our daily lives; breathe through them on the mat, and we can overcome them off the mat.
Dana's approach to teaching stems from her belief that yoga is accessible to everyone. Her experience as a former high school teacher enables her to effectively work with students by differentiating between learning styles and using the one that is most applicable for that individual student. Dana is known for her hands on approach and sheer enthusiasm and joy for the practice. Her personal style of teaching yoga draws attention to breath, alignment, and incorporates intelligent sequencing. She creates a safe space for her students where they can focus on "being a better me" by cultivating courage and compassion from within, leading to clarity. Her students work to balance that fine line between ease and effort creating the endurance and fortitude they need to overcome the obstacles on and off the mat and enjoy a fulfilling life.
Dana has worked with high profile private clientele on both the east and west coast, ranging from major league athletes, musicians, Broadway talent, top models, and film and television actors. She is the official yoga instructor to the 2015 NBA champions, the Golden State Warriors and has worked with the UCLA men's golf team and women's basketball team. She provides Vinyasa, Restorative, meditation, and The Roll Model® Method to players such as Festus Ezeli, Andre Iguodala, Harrison Barnes, Shawn Livingston, and Splash Brothers: Steph Curry and Klay Thompson.
Teacher Training is instructed by the following trainers:
Hannah Skye Wenzel
Nora Brank
Sondra Sun
Vanda Ciceryova
Interested in deepening your yoga practice or becoming a yoga teacher? Join Nora, Sondra, Hannah, and Vanda to find out more about what Namaste Studios' 200 Hour Teacher Training can offer you. You'll have the chance to learn more about our philosophy, get to know the instructors, and ask questions.
A short asana practice will be followed by a guided breath meditation, and a Q+A session. Please come prepared to take class. Refreshments will be provided.