VINYASA :: Advanced
This class is taught by: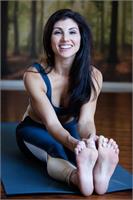 Dana Kraft's yoga experience is about limitless possibilities on and off the mat. She fills the room with her sense of fun and radiance and empowers her students through her philosophy- the challenges we face in our yoga practice parallel the obstacles we face in our daily lives; breathe through them on the mat, and we can overcome them off the mat.
Dana's approach to teaching stems from her belief that yoga is accessible to everyone. Her experience as a former high school teacher enables her to effectively work with students by differentiating between learning styles and using the one that is most applicable for that individual student. Dana is known for her hands on approach and sheer enthusiasm and joy for the practice. Her personal style of teaching yoga draws attention to breath, alignment, and incorporates intelligent sequencing. She creates a safe space for her students where they can focus on "being a better me" by cultivating courage and compassion from within, leading to clarity. Her students work to balance that fine line between ease and effort creating the endurance and fortitude they need to overcome the obstacles on and off the mat and enjoy a fulfilling life.
Dana has worked with high profile private clientele on both the east and west coast, ranging from major league athletes, musicians, Broadway talent, top models, and film and television actors. She is the official yoga instructor to the 2015 NBA champions, the Golden State Warriors and has worked with the UCLA men's golf team and women's basketball team. She provides Vinyasa, Restorative, meditation, and The Roll Model® Method to players such as Festus Ezeli, Andre Iguodala, Harrison Barnes, Shawn Livingston, and Splash Brothers: Steph Curry and Klay Thompson.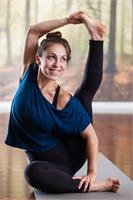 Hannah was born in Colorado, so a love of the mountains and of nature circulates in her soul. With her background in acting and dance, she will gracefully guide you through a seamless vinyasa flow that incorporates both strength and ease.
Hannah believes that yoga is for every body. Poses are just shapes, so they will look and feel a little different for each individual, and there can be great joy in the exploration of those internal and external nuances. Every class Hannah teaches is layered with different options so that students can customize their flow, either to be more energetic and challenging, or more grounded and relaxing. Everyone is inspired to practice for different reasons, usually when they are seeking something more in their lives. Whether that's physical health, emotional peace, or a meditative journey, Hannah encourages students to bring themselves to the mat. Spend some time in your own body; move, sweat, breath deeply, and play in your practice. Yoga can be an outlet to detoxify and destress, or a medium of play and expression -- and often times both. You can expect to sweat in Hannah's class, so bring your water and come ready to flow!
Certifications:
RYT 200, CorePower Yoga
Corepower Extensions Program & mentorship
Corepower Yoga Level 2 Training
Kids Yoga training, Yoga Works
Advanced Sequencing Immersion, Mukti Yoga School
Safe Teaching Immersion, Mukti Yoga School
This vigorously paced class offers dynamic transitions through poses and the opportunity to explore inversions, arm balances and backbends while building strength, balance, and flexibility.
Since this class involves a strength work and a faster pace, its best if you are already comfortable practicing sun salutations and have an intermediate level of fitness.
Upcoming classes: