POWER :: Yoga for Strength
This class is taught by: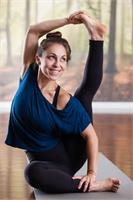 Hannah was born in Colorado, so a love of the mountains and of nature circulates in her soul. With her background in acting and dance, she will gracefully guide you through a seamless vinyasa flow that incorporates both strength and ease.
Hannah believes that yoga is for every body. Poses are just shapes, so they will look and feel a little different for each individual, and there can be great joy in the exploration of those internal and external nuances. Every class Hannah teaches is layered with different options so that students can customize their flow, either to be more energetic and challenging, or more grounded and relaxing. Everyone is inspired to practice for different reasons, usually when they are seeking something more in their lives. Whether that's physical health, emotional peace, or a meditative journey, Hannah encourages students to bring themselves to the mat. Spend some time in your own body; move, sweat, breath deeply, and play in your practice. Yoga can be an outlet to detoxify and destress, or a medium of play and expression -- and often times both. You can expect to sweat in Hannah's class, so bring your water and come ready to flow!
Certifications:
RYT 200, CorePower Yoga
Corepower Extensions Program & mentorship
Corepower Yoga Level 2 Training
Kids Yoga training, Yoga Works
Advanced Sequencing Immersion, Mukti Yoga School
Safe Teaching Immersion, Mukti Yoga School
Shira recently graduated from Occidental College with a focus in Buddhist Philosophy and Critical Theory. A Buddhist herself, she loves taking different Buddhist theories and incorporating them into her yoga practice. She has traveled around Asia living in monasteries in India, Nepal, and China, where she studied under meditation masters and explored a monastic life style. This past spring she finished her yoga teacher training with Mukti Yoga School.
As a yoga teacher Shira helps to cultivate a diverse environment, moving beyond static and confining notions of what it means to be a yogi. She shines a light on the multiplicity and dynamism of the practice of yoga by cultivating an inclusive and accepting class environment, and always hopes to challenge her students to face their fears and find their powers.
After graduating from college Shira decided not to go back home to Philadelphia because she realized her home and family was right here at Namaste. She does hope to continue her education in the future by getting a Masters in Divinity with a focus in Buddhist Ministery, but until then she will continue to learn and find the divine through the classes she takes here.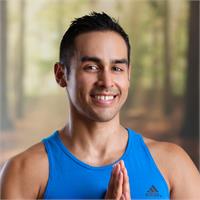 Steven is an Echo Park native. Born and raised here, his teaching style reflects the LA lifestyle: equal parts relaxing and adventurous. As someone who practices many different styles of yoga, he loves to keep classes fun and challenging by incorporating those styles into his teachings. His motto is Sapere Aude or Dare to Know. He believes that by keeping an open heart and mind you will never stop growing. Always looking for new ways to push himself, Steven found yoga. After it changed his life by connecting him to his more spiritual self, he became eager to share his passion with the rest of the world. He teaches that yoga, although an amazingly effective physical activity, is in reality so much more. When he is not teaching he remains very active. Steve is an avid runner, cyclist, as well as personal trainer and believes in healthy living through physical fitness.
Strength emanates from the core outwards. Build heat, stamina and strengthen your core muscles so you can flow with grace and ease in your yoga practice. Be prepared to generate heat with longer holds, to work and sweat in this power session.
EXPECT a great cardiovascular and strength building workout combined with breath work.
Upcoming classes: