HATHA :: Candlelight
This class is taught by: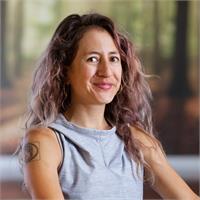 As a trail runner and endurance athlete, Ani first came to yoga in search of increased flexibility and a stronger core. While she noticed the physical results immediately, it was the unexpected mental and emotional benefits that kept her coming back to the mat. She credits the yoga practice with giving her the clarity of mind, physical and emotional balance necessary to conquer the steepest of climbs, on and off the trails.
Ani strives to create an inclusive space for all bodies: a place to take the practice seriously, but not necessarily ourselves. She's always looking for creative ways to challenge and support her students, whether it's with blocks, blankets, or a gentle reminder to relax those grimaces while in chair pose. In Ani's classes you can expect detailed instruction, inventive core work, and playful transitions from pose to pose. Above all, it is her hope that students will leave class feeling a bit more at home in their bodies.
With a background in childcare and literature, Ani believes a great yoga class has all the elements of a great bedtime story: a knowledgable guide, a different journey ever time, and ultimately, a resting pose.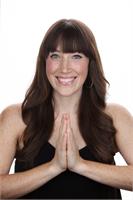 With a life-long passion for music and years of a dedicated yoga practice, Jasmine discovered the power of combining yoga and music during her first Kirtan chant – where she reached her deepest meditation. As a certified Mukti Yoga teacher, and music business professional, sound and movement constantly inspire Jasmine. Yogis believe that something sacred vibrates within us, and that vibrations are the source of life and the Universe. She feels the most powerful way to quiet the mind and experience this vibration is through the combination of asana and sound. Jasmine intuitively challenges and guides her students with a practice focused on alignment, flow, and breath – mixed with elements of sound through live music, meditations, mantras, crystal bowls, and unique playlists. Her classes provide a balanced, spiritual, and strength building experience that will resonate both on and off the mat. Jasmine also loves to promote 'mindful eating' through creating and sharing plant-based recipes, swimming at the local pool, and enjoying life with her fiancé.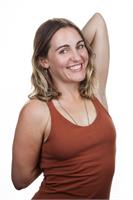 Initially, I came to my mat in art school as a simple way to calm my mind from anxiety and uncertainty. What I was surprised to find was an entire universe of awakening, from an unthawing of movement and breath, strengthening and aligning my physical body, and ultimately a continued fine-tuning of the subtle body and energetics of my mind.
The working through Samskaras, the Sanskrit word and idea of "mental impressions and psychological imprints" is what I'm interested in offering to my students. What you've come into the world with and onto your mat with has a chance of transformation everyday just by incremental shifts in continued showing up.
After intense study for about ten years in various methods, I felt called to become certified to teach. I completed my 200-hour training at Kula Yoga Projects in New York City, led by my incredible teachers Nikki Viella, Schuyler Grant, Nikki Costello and Erin Dudley. As well as study in various methods of meditation, from workshops in meta-meditation at Om Yoga in New York, to training in transcendental mediation through the David Lynch Foundation.
My intention with every class is to wake up dual-action in the body with clear and intelligent alignment, to keep the practitioner safe in the uncovering of fresh territory within the mind, body and the changing relationship of the two through the elixir of deepened breath and above all, to leave my class shining!
Wind down your day by the candlelight. This well-rounded evening class infuses a steady all levels hatha class with quiet, cooling, relaxing restorative poses at the end and an extended savasana. Perfect to ease away the day and prepare you for a restful night's sleep.
Upcoming classes: